 
S.Andrea Rice - Riso Corbetta
Bag of rice S. Andrea - Corbetta rice 
QUANTITY DISCOUNT !
Put in your cart at least 10 bags of any size or variety and you will be entitled to a discount.
Visit the QUANTITY DISCOUNT page for details.
Choose the type of bag and the desired weight in the boxes below.
Pagamenti Sicuri
Spedizioni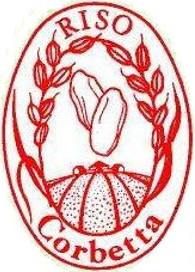 Posso pagare con la carta di credito anche se non ho Paypal?
Rice cultivated and worked by us, from the field to the bag!
S.Andrea rice is the most typical rice of our production area, the town of Rovasenda and the surrounding territories, in fact it plays the main role in many traditional dishes.
It has a medium sized grain and cooks less than Carnaroli rice but it has a greater release of starch during cooking and therefore will become much more creamy and blended with the other ingredients.
It has an approximate cooking time of 16 minutes.
Ideal for risottos and boiled, with the latter method, we recommend it as a side dish or for preparations that require a more bound rice, such as timbales and arancini.
Types of bag
Bag in protective atmosphere : the rice is inside a transparent food-grade plastic bag in a protective atmosphere. Keep in a cool place and away from direct sunlight
Cloth bag : the packaging is in a characteristic and traditional colored cloth, the color and designs are random, with visible white stitching and a cardboard label. The historical packaging of rice. IMPORTANT, with this type of packaging the preservation must take place in a cool and dry place and away from sunlight.